Photographing an Arabian Stallion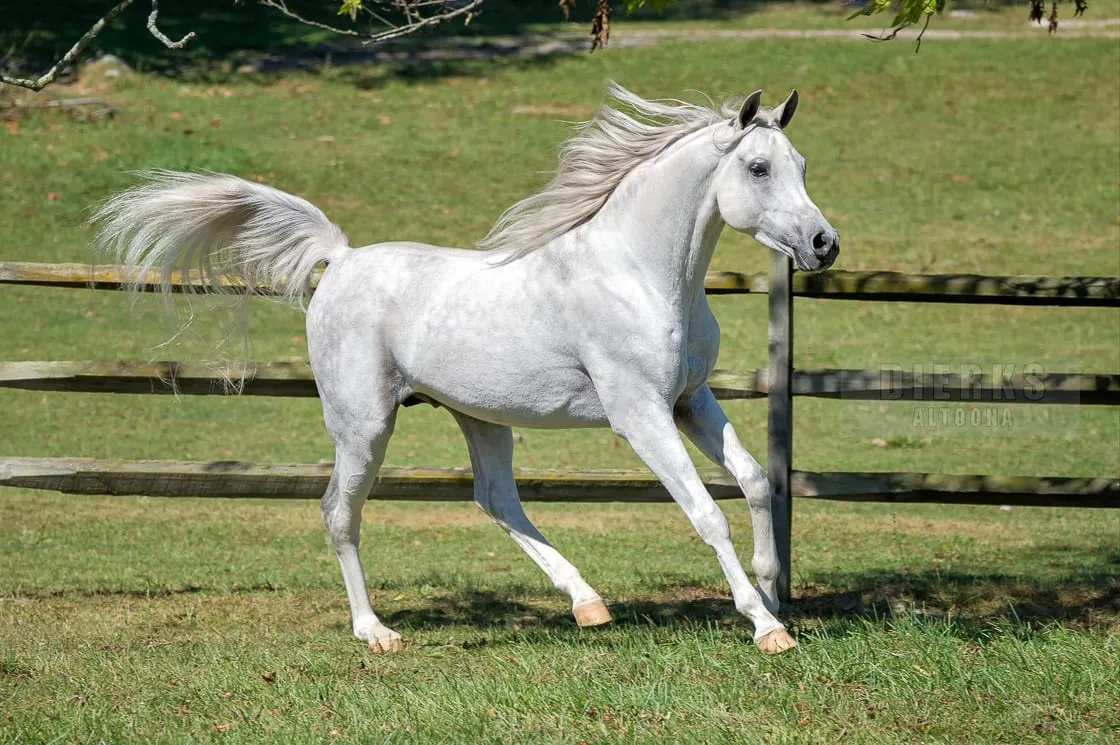 This Arabian horse is a real looker and a true pleasure to see in motion as he seems to float by as he runs past. It's almost as if he fell out of a fairy tale to land on earth simply to show humans how to do things in a heavenly manner. He's known nationally in Arabian circles as a breeding stallion and the higher end purebred qualities easily shine in his poise, movement, and high athleticism. Part of his raw beauty is the pale dapple gray coat with a platinum mane and tail…just like a fairy tale horse.
On this day of shooting in a borrowed pasture new to him, he showed all his stallion fire and snot just to make sure everyone knew he was in town! It didn't take much to get him going back and forth along the fence line in front of the camera with the help of a few people as chasers to make him turn as needed. That added bit of frustration made him a tad more alert and on point with his testosterone already bubbling. His experienced owner/trainer stayed close to keep him in check as needed, but he behaved very well for a box of live horsey dynamite. The neck stayed in a powerful arch, the ears were pointed with head up, and he often held his tail up in high flagging glory.
I used a long "horse lens" and a camera designed to shoot long, continuous sequences set for about five frames a second. It's typically used in sports. Strong sun helped to gain a high shutter speed, important for shooting at 1/1000 of a second to stop almost all motion. It's more fun if you can get all the muscle detail as they work, and capture the mane and tail flying and streaming in beautiful ways.
There are other shots of this beautiful horse in the Arabian Horses gallery under Horses, but you can find the above image, Arabian Stallion #14679, here.
Equipment: Nikon D3S, Nikkor 80-400mm "horse lens" alternated with a 70-200mm, and a good grip on the camera while tracking the horse…
Image and text © Andrew Dierks
Up Next: Helper Locomotives in Altoona