Old Girl, New Tricks #15278
The Story
Early in the morning, the East Broad Top #16 pulls northward past the railroad shop heading out of the Rockhill yard. White exhaust steam hits the ground as the eight drivers turn. Under the work of acceleration, thick black coal smoke twirls into the air. With his hand on the throttle, the engineer in the cab turns his head to check the gauges to see if everything is normal, and the narrow gauge freight train heads north toward Mt Union.
It's easy to imagine the year is 1920 in this picture, a scene repeated often in East Broad Top's working years as a coal hauler in southern Huntingdon County, Pennsylvania. In fact, the entire railroad remains intact and wasn't improved much past the 1920s until its closure in 1956. It's truly a complete time capsule from that industrial age in America a hundred or so years ago.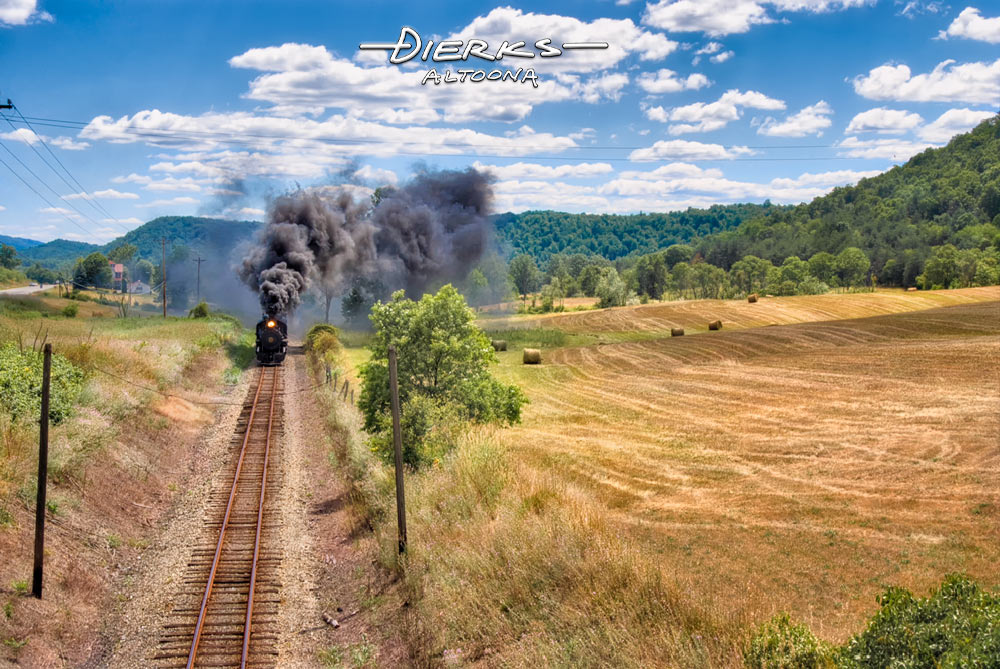 East Broad Top #16 is the first of six old narrow gauge steam locomotives at the railroad to be fully restored and put back into operation. The other vintage steam locomotives on the railroad will surely follow over time as the new EBT Foundation proceeds with its plans to restore the little short-line railroad back to life as a tourist operation. Narrow gauge steam railroading is rather rare these days with just a handful of these railroads remaining in the country from the industrial age century ago.
The EBT Foundation has also created a new website www.eastbroadtop.com to reach the public through modern digital means. The website is very well done and showcases the many events held at the East Broad Top throughout the year, including shop tours and trolley rides at the nearby Rockhill Trolley Museum. Overall, the new website has proven to be very effective in getting the word out about all the themed activities year-round at the East Broad Top Railroad. The website also serves as the main portal for booking a ticket to any of the family-friendly events.
Another further interesting website to visit is the Friends of the East Broad Top, febt.org. As they say themselves, they're about preserving a time capsule like no other, which the East Broad Top truly is.
The smaller inset picture is Smoke Across The Fields #10640, taken out on the mainline as the EBT steam train runs through nearby farmland.
Location: Orbisonia, Rockhill Furnace, Huntingdon County, Pennsylvania.
Up Next: Before The Rain #14750